...
Greek
A sampling from our inventory
---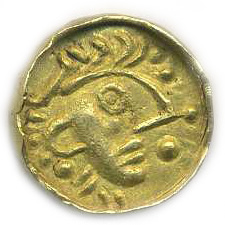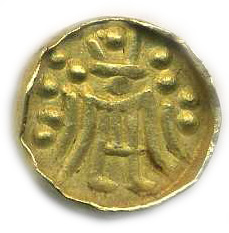 Black Sea, Georgia, Kolchis. 1st Century BC. Gold Stater. Linear stylized head r., pellets. Rv: Linear stylized facing chariot, pellets. De la Tour 9377. Extremely rare. EF $6750.00

Jason and the Argonauts journeyed to ancient Kolchis to retrieve the Gold Fleece with the help of Medea.
---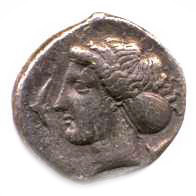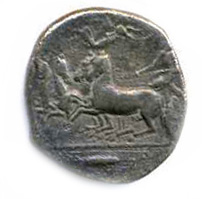 Sicily, Syracuse, Dionysius, c. 405 BC. HemiDrachm. Head of Arethusa l., dolphin. Rv: Victory over Quadriga, wheat branch below. ANS 305. Rare. VF+ $975.00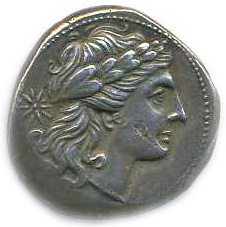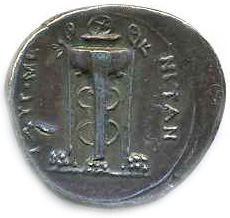 Sicily, Tauromenion, c. 274 BC. Drachm. Head of Apollo r., star. Rv: Tripod. ANS 293. Very rare. Slight graze to cheek, Good VF $2250.00
Ex Bement collection, Navile VI, 1923, Lot 571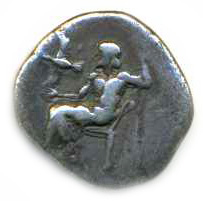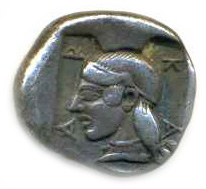 Arkadia, Arkadian League, 460-450 BC. Hemi-Drachm. Mantinea mint. Zeus Lykaios seated left. Rv: Head of Kallisto left. HGCS 915. Very rare. Good VF $1875.00

Williams, ANS 1965, #237D O154/R148 (this coin); Ex Herbert Cahn collection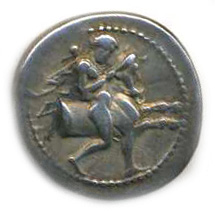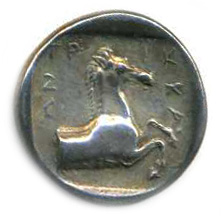 Thessaly, Trikka, 425-400 BC. HemiDrachm. Thessalos with forepart of a bull. Rv: Forepart of Horse. BCD Thessaly 781. Very rare. Good VF $675.00
Ex Demetriadi collection.
---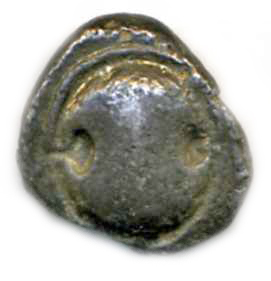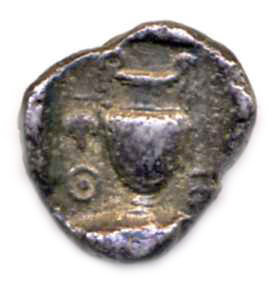 Boeotia, Thebes, 426-395 BC. Stater. Boeotian shield. Rv: Amphora, bunch of grapes. BMC 76; s.2384. Good VF $375.00
---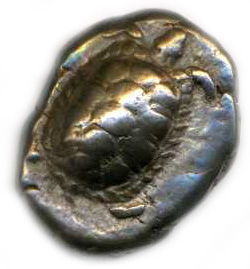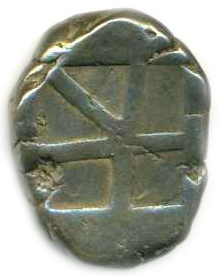 Aegina, 456-431 BC. Stater. Tortoise. Rv: Skew incuse. Millbank 2.12. Good VF Sold
---


Attica, Athens, c. 550 BC. Hemi-obol. Civic mint. Pomegranate. Rv: Incuse punch. Seltman Group D pl.4. Extremely rare. Choice. VF+ $1350.00

From the earliest coinage of Athens
---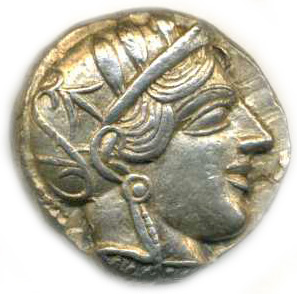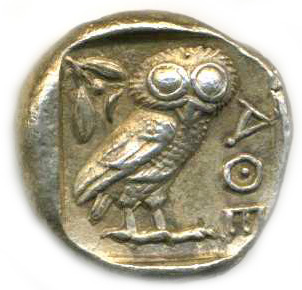 Attica, Athens, c. 425 BC. Tetradrachm. Helmeted Athena l. Rv: Owl r., olive sprig. s.2526 Lovely EF $2250.00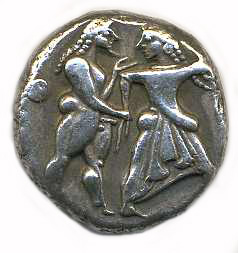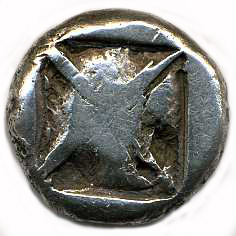 Siris, c. 520-500 BC. Stater. Satyr, standing nude and erect, holding the hand of an inviting Nymph facing slightly away, her chiton slipped around her waist over her bare bottom. Rv: Large square shallow incuse with linear cross. Svoronos, Plate VII, #22 (same dies). Very rare. EF $18,750.00
Ex Numismatic Ars Classica
An exceptional example, superb archaic style, of great charm and lascivious amusement..
---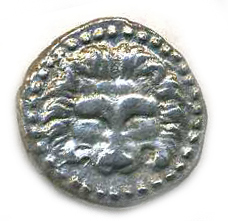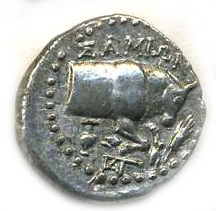 Samos, c. 200 BC. Tetrobol. Lion scalp facing. Rv: Forepart Bull left. Barron 225, BMC 180. Rare. EF $1650.00
---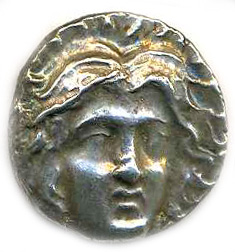 Carian Islands, Rhodes, 280-250 BC. DiDrachm. Helios. Rv: Rose, with bud. Anchor. S.5049. aEF $975.00
---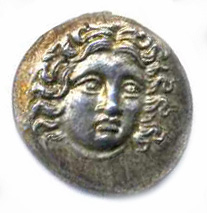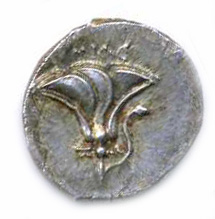 Macedon, Perseus, 179-168 BC. Tetrobol. Facing head of Helios. Rv: Rose. Hermaios magistrate. Keckman 793. Superb $750.00

Issued to pay Cretan mercenaries during the third Macedonian war.
---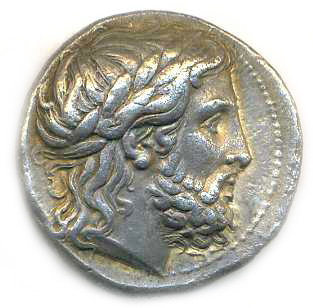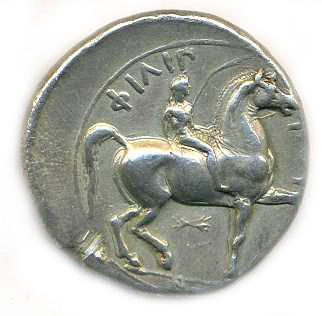 Macedon, Philip II, 359-336 BC. Tetradrachm. Pella mint, 343-336 BC. Head of Zeus r. Rv: Youth on horseback r. LeRider 256. Lovely example of a rare lifetime coinage. Slight edge ding. aEF $1750.00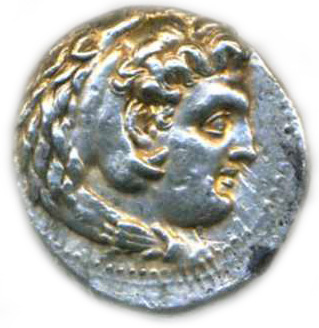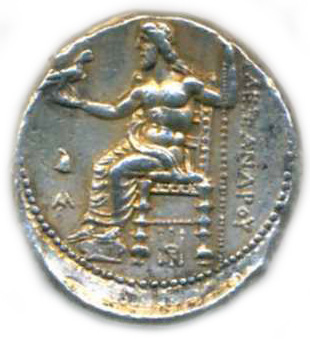 Macedon, Alexander III, the Great, 336-323 BC. Tetradrachm. Babylon mint, 325-323 BC. Head of Hercules r. Rv: Zeus enthroned. Pr.3650. Lovely example of a rare lifetime coinage. EF $1350.00
---
---
...
















web updates by joeswebguy@kidrey.com

update 2011